Many of you have been asking if a cook can prepare a delicious breakfast at home. Unfortunately, this service is not offered by DAR EL MAQ.
However, don't worry, we have compiled a selection of the best places to enjoy breakfast in Asilah.
Whether you prefer a breakfast with a breathtaking view of the Atlantic Ocean or opt for a more intimate experience in the comfort of your accommodation at DAR EL MAQ, our guide will help you find the perfect spot. Savor traditional Moroccan dishes, fresh bread, local pancakes, seasonal fruits, and much more. You can even prepare your own breakfast using the fully equipped kitchen at DAR EL MAQ.
If you're looking for the best restaurants for lunch or dinner, check out our selection right here!
---
Café Daya
A breakfast facing the Atlantic
10/15 minutes on foot
💲 40/50 MAD
For an unforgettable morning experience with a breathtaking view of the Atlantic Ocean, look no further than Café Daya. Located in Asilah, this café not only offers a delicious breakfast but also direct access to a small beach via stairs. It's the perfect spot for families looking for a morning getaway.
You can also enjoy mint tea or coffee while admiring the sunset. However, please note that this place can get quite crowded during the summer.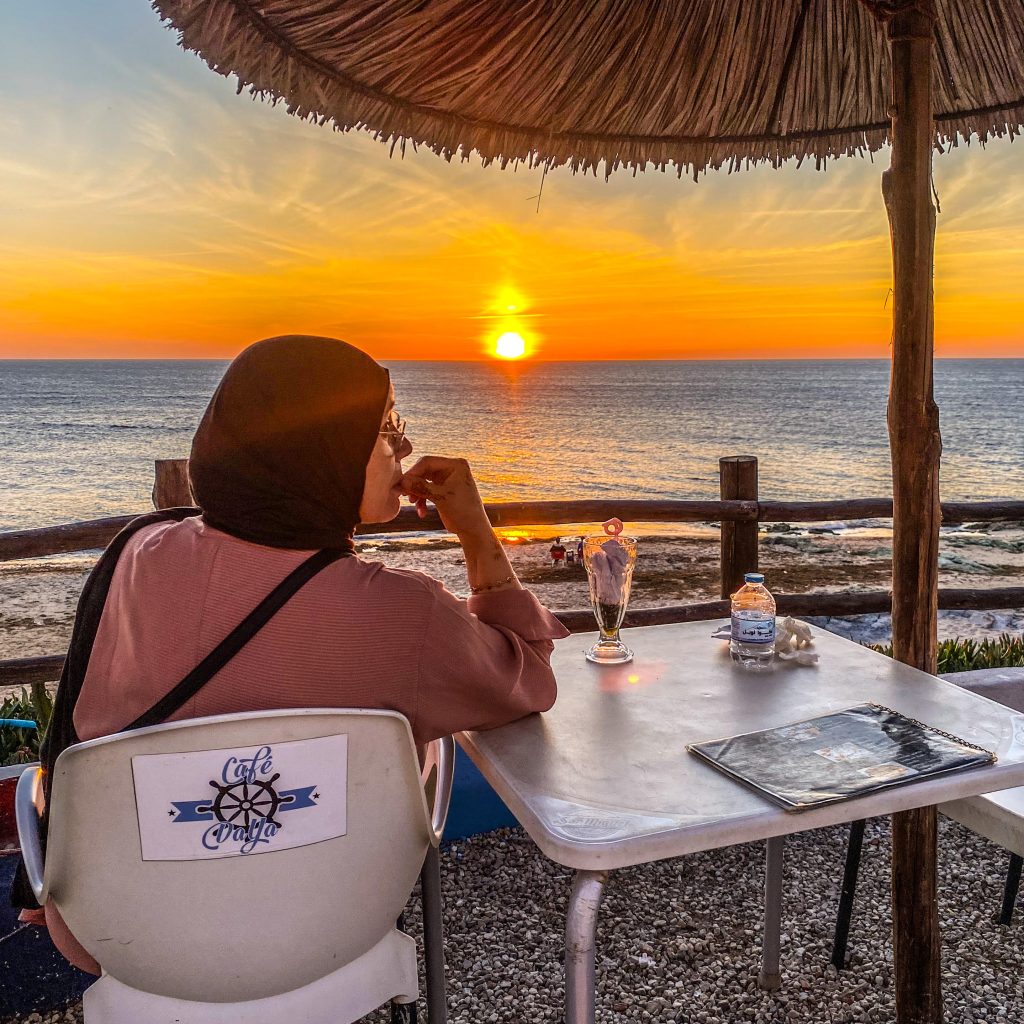 ---
Chez Farid
Authenticity at the heart of the medina
👣 5 minutes on foot
💲 20/30 MAD
If you prefer a more discreet and authentic experience, head to Farid's, a hidden gem of a cafe in the heart of Asilah's old Medina. You won't find it on Google, but we've included the GPS coordinates to make it easier for you to locate. At Farid's, you'll be pleasantly surprised by the unbeatable value for money.
Keep in mind that the space is limited, with only 6 to 8 seating places, but Farid is always willing to assist you. You can even negotiate with him to have breakfast delivered directly to DAR EL MAQ.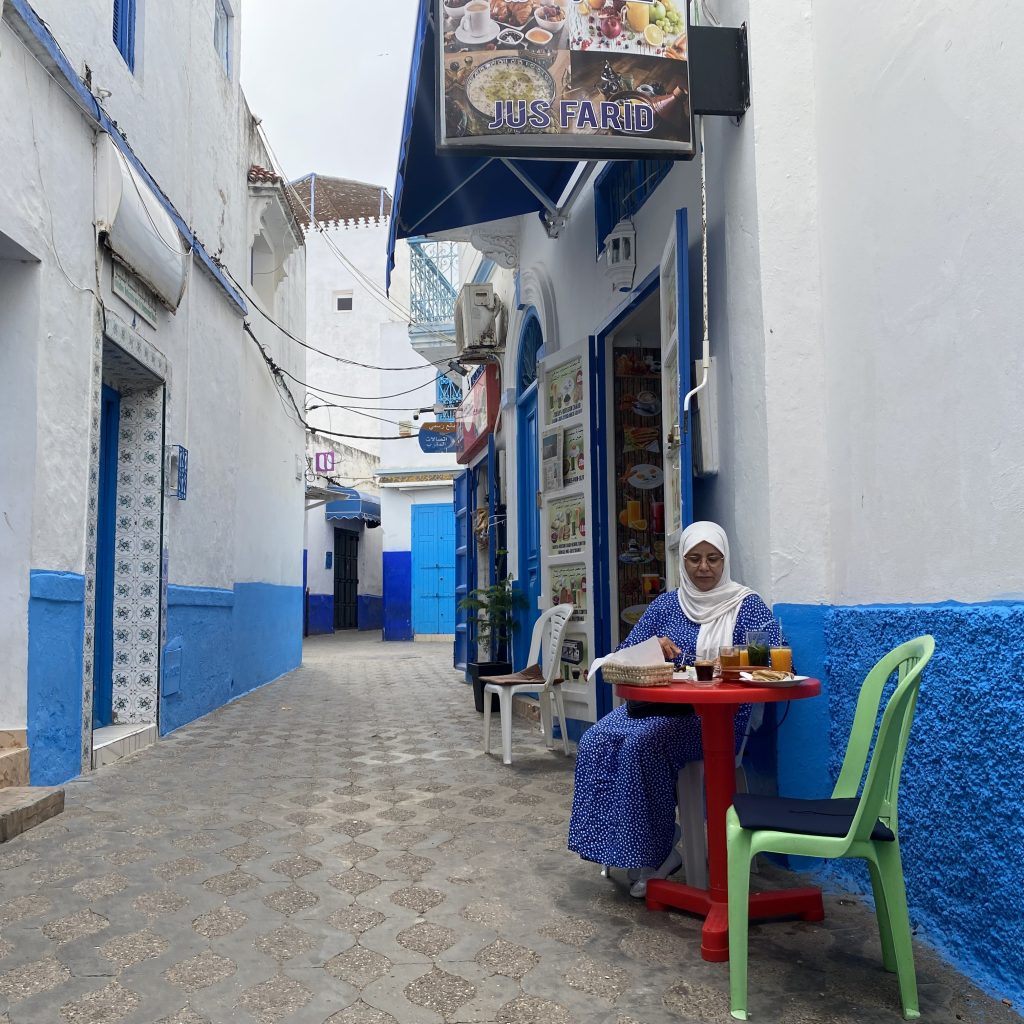 ---
Breakfast at home
Your kitchen, your creativity
👣 Terraces of DAR EL MAQ
💲 Market stroll
If you prefer an intimate breakfast, take advantage of the fully equipped kitchen at DAR EL MAQ. You can prepare delicious breakfasts by strolling through the town to buy fresh bread, Moroccan pancakes, and seasonal fruits.
Then, settle on the terrace, where you can savor your meal while gazing at the ocean and listening to the gentle sound of the waves. For some shade, sit beneath the pergola.
Whether it's breakfast, a snack, or an evening aperitif, the ambiance is enchanting, with the sun setting over the ocean. It's the perfect place to gather with friends or have a romantic moment with the Atlantic Ocean.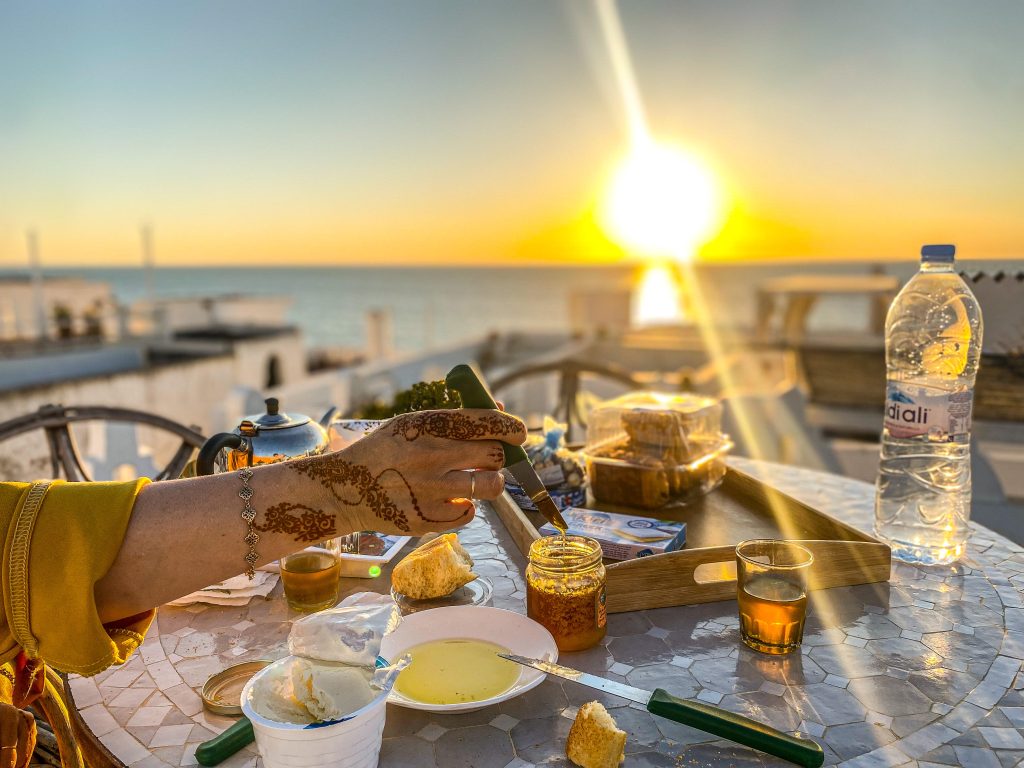 ---
We hope this selection helps you find the perfect spot for a memorable breakfast in Asilah. Enjoy your culinary experience in Asilah, where Moroccan cuisine and spectacular views await to start your day right!
---